This is the first week under new site management. One of these days, a crack will open in the sky and I'll get internet at a rate I can afford with reliability (Google's fiber optic cables, perhaps?) but until then, our writer Taina Tirado will also be helping out with all the duties on The Grim Tower. She's educating herself still a little on the metal side of things, but she's dedicated to understanding how things work and wants to get them working properly. So please, pardon our dust. As per the usual, I've handpicked a few of my personal favorites from the promo batch and offered up a few submissions as well.
Gospel Of The Witches – Salem's Wounds (2015 Spotlight) – Gospel Of The Witches is a brand new and successfully funded project from former Crisis frontwoman, Karyn Crisis. It also features Immolation frontman Ross Dolan, Intronaut drummer Danny Walker and founding guitarist of the now split-up Ephel Duath, Davide Tiso. So you might as well consider this band the next step for Ephel Duath. Though that's not a bad thing either, because Gospel Of The Witches is not at all the kind of act you'd expect. While clean female vocals are apparent here, there are also some much heavier ones in addition to horrendously thick backing growls from the Immolation frontman as well as some rather raspy scowls from Karyn herself. But the vocals are only one small part of the formula and Ephel Duath fans will be happy to know that Salem's Wounds is an extremely well textured and progressively influenced disc in the vein of their previous releases. As a matter of fact, I like Salem's Wounds much more than I liked the last two outputs from Ephel Duath and I'm not going to beat around the bush about that. Let's face it, Ephel Duath's last record Hemmed By Light, Shaped By Darkness was completely all over the place and it lacked any and all sense of direction. It was just a mess. A well-crafted mess, but a mess nonetheless. Yet in Gospel Of The Witches, I hear a band with a greater sense of purpose. There's a little bit of simplicity here, but I feel that's a necessary avenue and it helps to give focus to these songs as whole. Tracks like "Ancient Ways 4:34" and "Aradia 3:42" really pound and metalheads are going to feel that. There's a real sense of viciousness to this disc, which plays in tune with its airy atmospheres, making for an ultimately memorable release that sounds like both a ritual and a slaughter for a sacrifice at the same time. The lyrical realms are bathed in Neo-Paganism, which here would translate to Wicca, something I of course am quite familiar with and had devoted much of my life to before I became a magician. As far as the magickal aspects in play here, one can certainly sense atmospheres in play that even lead into high ceremonial magick realms, as "Father 4:54" displays quite well. There is a great deal of affirmation in use and most definitely an occult atmosphere all of the way around. Though many bands find gimmicks, Salem's Wounds is not a record based on trends even though that might be why the label signed them. As a matter of fact, this is very much a band who are heavily dedicated to their magickal offerings, just as much as I'd expect from an act like Minsk or Dead Can Dance. It's experimental, but it's authentic. You can go around the world twenty times and you'll never find a record that sounds even remotely like this. You might find the influences, but never a proper emulation. Such is why I feel that Gospel Of The Witches is one of the most unique and unexpected albums of 2015. You simply must get your hands on it as soon as possible, just as long as you're willing to embrace both the atmosphere and the carnage on display here. It's much different than you'd ever expect from these four distinct musicians, but the output is utterly worth its weight in alchemical gold.
(13 Tracks, 61:00)
10/10
El Hijo De La Aurora – The Enigma Of Evil (2015) – This effort from Peruvian experimental doomers El Hijo De La Aurora started out a little bland in the beginning, but as it went on, things got much more interesting. Take the album's first track for instance (6:10) which really seemed a little laid back for doom, with a rather "happy" sounding clean vocal tone. It's the kind of thing that will turn people off quickly from the performance. But with the album's second track (6:34) and it's pounding drums backed with choral chants, I'm starting to feel a real sense of mightiness from the release. The third track (5:27) brings us back into a laid back sense of things, as it really plays up on groove, as the fourth cut (4:47)seems to roll right into acoustic laden psychedelics. Track five (5:19) becomes purely atmosphere, and it's here that I start to see a multi-faceted type of act that goes far beyond the "doom" label. The sixth track on the record feels like a sort of ritual, and that fills with tribal drums and meaningful chants (it almost takes me away to an Arabian desert) as the whole thing ends out with the final track's (7:38) mix of drone and demonic vocal effect backed doom. The Enigma Of Evil is truly made up of many parts, which see it traveling far beyond the common realms of doom metal as there is just so much here to see and explore. The band shows a lot of potential here and I'm sure they will only get even more interesting with time.
(7 Tracks, 43:00)
7/10
Strange Here – II (2015) – Strange Here is a psychedelic doom project from Alexander Scardavian and it takes influences from Black Sabbath, St. Vitus, Blue Cheer and more. The first two tracks ("Still Alone 3:50" and "Kiss Of Worms 4:18") are the shortest here, but "Kiss Of Worms" is certainly worth pointing out due to its sense of dread and supremely harsh vocal effort that caught my attention effortlessly, blowing away the standard-fare of album opener "Still Alone." Hoping for even better material (if possible, as "Kiss Of Worms" was amazing) I continued to "Born To Lose 8:54" which almost makes me think of doom/death in a way and did well to remind me of Candlemass. The clean vocals might not be so great, but what I really like from Alexander are those dreadful moments, the ones where he sounds like he's become both monster and man. The classic style guitar solos don't hurt either. "Black, Grey And White 8:42" takes this formula into odd psychedelics, making something so trippy sound so dark at the same time… and get a load of those lyrics. You'll just have to listen to it to understand what I'm saying, but this guy doesn't seem to give one inch of a fuck as to how vulgar he is on the disc and I like that. "Acid Rain 5:08" almost makes me think of Triptykon, with its darkly doom dirges and horrific vocal rasps. Folks, this album is far darker than the album cover makes it out to be, and I love it all the more for it. There's a large moment of trip in "Only If… 10:11" but the disc ends out with same sense of supreme darkness that we'd expect with "Shiftless 5:17" Though the clean vocal utterances might not be perfect, there's clearly something dark, twisted and psychedelic here and Alexander proves that with this sophomore effort.
(7 Tracks, 46:00)
8/10
The Kahless Clone – An Endless Loop EP (2015) – A project started by Vito Marchese of November's Doom, this instrumental dark metal album also features the likes of Zach Libbe, Gary Naples, Andy Bunk and Ben Johnson. Essentially it's a rather dreary, yet heavy mix of feelings spoken through the language of music. "Leave This Place With Me 7:40" starts out with calming piano and light guitar rhythms, which build (like most of the tracks here) into a thundering piece that to me almost mirrors the classic death march. He probably doesn't even realize it, but there are melodies within that section which seem to almost emulate that classic tune. I can't be sure if that was intentional, but it seems to not have been. Then there's "I Can Feel Them, But I Can't Remember Them 7:03" in which I have a bit of a story to tell. You see, I had gone in to do some shopping while he was in the car listening to the album. I didn't expect him to really think that much of it, since he normally doesn't listen to that kind of music. But when I got back, the man was completely ecstatic and exclaimed that this track was absolutely amazing. It literally blew his mind and he said it felt like Hollywood. I do see what he's talking about here though, with the track building up into heaviness and then delivering through its mounds of melodies, almost in a fashion that would make Pelican pack up their gear and head out the door. He considered this one track a 10/10 and said that even if I give the record a 9 or an 8, that track will always be better to him than the rest of the disc. "Everything You See Is Gone 6:04" doesn't quite build up right to the heaviness and observes atmosphere instead, but it feels like it could adorn some sort of trailer, in much the same way that the previous track does. I don't know The Kahless Clone feel about their music in trailers, but I think they have the right sort of atmosphere for a game or film and that translates well to an audience. The final cut here is "A Somber Reflection 3:44" which is essentially a mixture of electronics and acoustic melodies. There's no doubt in my mind that The Kahless Clone offer a remarkable package within the first two tracks, but I feel that the third takes a little too much time to warm up and the final note on the disc just feels like sort of an afterthought. Still, the band have plenty going for them (as my friend noticed) and hopefully this won't be the only output from such an intriguing act.
(4 Tracks, 28:00)
7.5/10
King Hitter – King Hitter (2015) – This short EP from North Carolinian rockers King Hitter actually caught my attention pretty quickly. Not only do the guys have their chops down, but the frontman's got a rather pleasing vocal approach that I wouldn't mind hearing more from in the future. Karl Agell has that kind of catchy vocal tone that you remember instantly and makes for great earworms, like "Drone Again 4:53" displays instantly. I'm actually getting a lot of comparisons to radio-friendly era Mudvayne and there's no doubt that King Hitter are going to appeal to that radio rock crowd more than they will fist-pounding metalheads… but wait, because rockers pound their firsts in the air too. Even though guitarist Scott Little seems to be heavily influenced by the Peoria face-painters, there's no denying that a heaping helping of southern hospitality is also featured on the disc and that includes several worthy solo moments, which utterly blow the goddamned pants off of any other little group that you'll hear on the radio trying pass off what they call "a solo." When you give King Hitter a listen, you're not only getting an extremely catchy disc, but you're getting a well-crafted one. To put it bluntly, these guys actually sound like they give a shit and the listener benefits from it. It's very easy to phone in a catchy hard rock inspired disc, but each of these tracks sound like a lot of hard work went into to mixing the two styles and that makes it all sound worth a damn in the end. This is southern infused hard rock that delivers on so many levels that it's unfathomable. I definitely wouldn't mind hearing more. Pick it up for four bones on Bandcamp.
(5 Tracks, 24:00)
8/10
Sinner's Moon – Atlantis (2015) – The band Sinner's Moon play a style of symphonic metal akin to Nightwish, but with a sort of finesse that's so potent that these guys could very well be the next Nightwish, regardless of what you think of Endless Forms Most Beautiful. The album cover looks thrown together as does the logo, but it doesn't matter. They could have just given me a blue cover with nothing on it and I'd still be impressed. Because from my experience, I clearly sense that there's something on Atlantis that has yet to be unearthed. The record's production might be a bit of a detriment, but I'm sure that those who've ears for the quality of the music rather than the quality of the production will certainly hear something worthwhile here. I'm reminded a lot of Nightwish's heaviest and most thrash inspired record Once, yet there is still plenty of room for the astonishing vocal prowess of the frontwoman to shine. And yes, there's even the addition of some rather menacing scowls which I certainly do not mind in this kind of music. It adds more of an extreme element to the band, which makes the thrash elements seem necessary. In truth, these guys took much from original Nightwish and made it their own on the record, adding in little skits and poetry readings within the songs, which seem to capture just as much merit as when the aforementioned did them back on majestic recordings like Oceanborn. Anyone remember that one? Because I still do and that's what I get from Atlantis. As a matter of fact, if this record had the same level of production and budget that Endless Forms Most Beautiful had, there's no doubt in my mind that it would have blown it out of the water – Floor Johanssen and all. But even if you don't agree with my opinion, at least no one in Sinner's Moon is complaining about how one of their singles leaked and was a "horrible scheme" that added to the detriment of the band. The song itself wasn't even that good, to be honest. yet as for this record, there really isn't one cut that seems strictly filler and immeasurable moments of grandiosity like "Fly To The Moon 8:15" definitely show the band at their very best. When I heard this track for the first time, the only thing that I could say to myself was, "It looks like the old Nightwish is back again." I know, I've said it time and again, but I just can't stress how well these unknowns have captured the formula and truly believe that amazing feats lie ahead for them in the next few years as a band. While I'm sure that there are people who would prefer this album not quite so fuzzy in some instances, if you listen to it for what it is, you won't be disappointed. It might have the same level of recording quality as Angels Fall First, but the amount of skill featured on this record is on the level of some of Nightwish's very best moments. It goes without saying that Nighwish fans looking for a heavier and more true to form output will surely enjoy the effort presented here.
(11 Tracks, 61:00)
9/10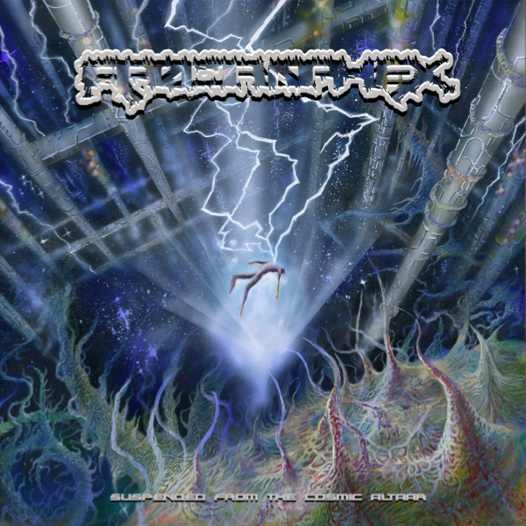 Apocrophex – Suspended From The Cosmic Altar (2015) – Sometimes I can't even get over the amount of privileges I have in this kind of work, and getting an amazing album like this from two unknown musicians is just one of them. A two piece consisting of Justin Buell (All instruments) and Pete Colucci (Vocals) this technical death metal record is well worth your time, and it's actually worth your money too. I was blown away by the first cut "The Grey 4:02" just as much as the latter cuts on the album, like "Being Dissolved 4:18" and closer "Exposed Organics 5:26." which all seem to display absolutely impressive musical structures which fill with just as much melody, technicality and overall weirdness as you'd expect from such a band. But unlike countless other acts in their genre, these guys actually manage to NOT get boring after a while. Almost each and every song seems to offer something different, while still sticking to the same formula that bands like this are known for. Apocrophex keep my attention rather than just delving right into nonsense and I'm thankful for it. The solos are short, but they're noticeable, while the vocals seem to pack the right amount of gravel and glass instrumentation as they flow along with the rest of the musical structures presented on the album. The drumming is overly impeccable and truly manages to craft a strong backbone to all of the guitar wizardry taking center stage. This really sounds remarkable for just a two man project and I'm sure that the band will delve even further on their next output – at least, we should hope. There are a few missteps here and there in the vocals, but I'll let it slide compared to the performance as a whole. A large gamut of tech-death acts these days have virtually nothing to offer that hasn't already been offered before. But bands like Apocrophex are something different and they manage to keep things fresh enough to keep me entertained, instead of throwing them into the background. I might not even be able to make heads or tails of the lyrical subject matter, but the overall performance is brilliant enough that it just doesn't matter that much in retrospect. In short, there's definitely something here and quite frankly; I want to hear more of it.
(9 Tracks, 38:00)
9/10
Helrunar – Niederkunfft (2015) – The long awaited new album from German black metallers Hellrunar isn't another two disc effort, but it proves just as potent as the band's previous outing Sol and delivers up some of the band's darkest material to date. Thick dirges of doom work in tandem with eerie tremolos and rapacious drum blasts in order to create one of the most fiendish and vile things I've heard all year. There might only be two musicians in the band, but this demonic duo really manage to prove their worth once again as they literally channel all of hell, damnation and Armageddon on one single disc. There are also two songs in English on the record, the first being "Devils, Devils Everywhere! 7:02" which is a sort of satanic anthem that will have churchly fellows wetting their pants and "The Hiebner Prophecy 11:25" which closes the disc with the end of the whole fucking world. Both of these tracks see the band's work in English just as potent as its work in German, and it's dark and gloomy atmospheres fill my black heart with a dose of sadistic glee. There is absolutely nothing to be found on Niederkunfft that even suggests mankind will survive its own horrors and the band seem to lay those out quite well through these eight dark rituals. Though it's score on Metal Archives is only about a decent 70/100, I feel the record is far stronger and offers much more than a great majority of other black metal acts out there right now. Compared to literally hundreds of black metal acts that graze my ears daily, Helrunar grabbed my attention immediately because Niederkunfft truly feels like black metal. I could argue with the reviewer, but that usually results in a shouting match, which I don't prefer to get involved in at the current moment. (Maybe later perhaps, as I do love a good argument.) But some people just like what they like and there's nothing I can do about it. I myself am the same way in that respect. Though when I personally put on my listening device and expect to hear black metal, Niederkunfft seems to capture that grim, dark and unholy feeling perfectly. Sure, it may sound a bit modern, but I feel like I have to keep reminding people that the nineties have passed and we're all getting old. At least we have modern approaches in the vein of this powerfully dark and mysterious release, which capture one-hundred-percent the very essence of what black metal should be. Mixed in with doom, atmosphere and horrendously vicious vocal efforts, there's no doubt in my mind at least, that Niederkunfft is simply one of the best black metal albums you'll hear this year. Helrunar have done such an amazing job with this unkempt monstrosity of an album that I'm not sure how they're going to be able to top it. After all, how much darker can you get? Folks, it just doesn't get much grimmer than this… and being that we're The Grim Tower, we know these things pretty well.
(8 Tracks, 56:00)
9/10
Solefald – World Metal, Kosmopolis Sud (2015) – I must say, it's been an awful long time since I've heard Norwegian experimentalists Solefald sound as hungry for originality as this and World Metal, Kosmopolis Sud is definitely a crowning achievement in their already extremely bombastic catalog. They've created so many diverse records throughout the years, but this one really takes the cake. The album begins with "World Music With Black Edges 7:56" which combines the band's particular take on avant-garde metal with electronics, rapped growls from Cornelius Jakhelln and quite possibly some of the best clean vocal lines that I've heard from Lezare Nedland since In Harmonia Universali, which is what this album reminds me the most of. In many ways, it feels like In Harmonia Universali Pt.2 and features an even grander evolution of their already explosive experiments. In fact, it's easy for me to say that "World Music With Black Edges" is one of the single best songs I've heard all year. Yet there are more tracks on the release, like "The Germanic Entity 8:11" which seems to feature even more rapped vocal lines, in addition to what appears to be a xylophone (which I've always wanted to hear in metal) and a digital sampler as well. This record is literally so over the top that it doesn't even make sense that it works together as perfectly as it does. This shouldn't – in theory – sound this good. These musical structures should not go together as well as they do and the very core of this record feels like a backhand to the very physics of music itself. That being said, they really know how to keep my attention over an eight minute period. The next piece "Bububu Bad Beuys 4:20" here sounds like a sort of joke by the guys unfortunately and I have to say that I don't truly understand it. The drumming is quite good and the piece gets considerably heavier, but I just don't have any idea what the vocal idea here was. It's stupidly intelligent and so possibly far over my head that higher beings in another dimension are laughing at me. "Future Universali Histories 6:49" brings back the mightiness however and unleashes more of Nedland's amazing vocal talents, which serve as high water marks between the hefty amounts of atmosphere which builds up to an impressive crescendo. There's even a little bit of surf-rock employed here which you'll hear in bits and pieces, along with everything else. "Le Soleil 5:47" features more of the xylophone, which duets with electronics and of course, a hefty bearing of riffs to unleash a rather intriguing, yet potent call to arms of sorts. Of course, Nedland is there to balance out Jakhelln's harsh vocal utterances (which have vastly improved since In Harmonia Universali by the way) and the whole thing serves to dazzle me. The next cut is "2011, Or A Knight Of The Fail 6:59" which seems to narrate a little tale that finds itself mixed in with electronics and slightly Arabic elements, which seem necessary considering the lyrical matter here. Next we have "String The Bow Of Sorrow 6:37" which is by far the heaviest track on the disc. Drums blast as dark melodies erupt and lead into rather gothic sounding section, which ultimately opens up to what seems to be the only real guitar solo on the entire album. But it's definitely a strong solo and feels necessary for this veritable denouement, which might be the only cut on the record that will appeal to the more closed minded bunch looking for an extreme heavy metal approach. The last track on the record is "Oslo Melancholy 3:34" which seems sort of an afterthought in the way of gentle atmospheres and feels like end-credits to the whole performance. While not entirely necessary, it does manage to wrap up the disc on a rather melancholy note, which Solefald have been known for since 1995. Man, that's a longtime. I was only ten years old in those days and now I'm going to be thirty. In that sense World Music, Kosmopolis Sud is a highly experimental and extravagant way to celebrate the band's twenty-fifth anniversary and it feels very much like a evolved compilation of their many distinct efforts. Even previous album titles and ideas are referenced within the lyrics, which seem to denote a legacy of sorts for these Norwegian mad scientists. To be honest, I never thought a band that some people have unfortunately never even heard of (I had to tell someone about them just the other day) would come to this point, but eight albums, various compilations and twenty-five years of existence has proven me wrong and I've never been so glad for that fact. Despite some of its flaws, I still believe that everyone on this planet needs to hear this record. It's remarkably unlike anything else that has ever been achieved in the history of mankind. It's scores are high on Metal Archives and they shall be here as well. I've heard it called "The Sergeant Pepper Of Metal" and I would certainly have to agree with that statement. This isn't just metal, it's World Metal, Kosmopolis Sud.
(8 Tracks, 50:00)
9.5/10
Steel Bearing Hand – Steel Bearing Hand (2015) – Steel Bearing Hand are the only band I've ever heard that plays both black metal and death metal on the same disc. Don't get me wrong, as they're not a black/death band. Rather, they perform both styles of music on the same disc. For instance, "Disenchant 2:10" is a pure death metal track. You can tell that instantly and there's no real need to clarify the fact. It feels the same as classic death metal would, and should sound. Then we have "Kneel Before The Steel 7:41" which takes on a mix of black metal tremolos and speed metal, much in the vein of Toxic Holocaust. The band does a wonderful job of emulating this style as well. When we come back to death metal, it's in the form of "The Charnel God 6:12" which buzzes with the heat and fire of classic death metal, played in a raw and rather unruly form. When we get to the other side of the LP however, "Tyrannical Shadows 8:58" greets us to a more black metal influenced piece, which ultimately rolls into a death metal display which shows off some technicality in the process. It shows that the band truly have the ability to play both good death and black metal, as well as speed and practically anything else, but I haven't really heard anything congeal on the record as of yet and I'd hope by their next release that they've found some footing. Finishing up the album (and our review) is "(Usurp) The Hidden Thrones 7:11" which gives us another slice of black metal mixed with speed as it shows us that Steel Bearing Hand do not prefer a Norwegian black metal approach in favor of a something far more English and filled with Venom. Nevertheless, this EP is rather promising and I'd certainly recommend it. Steel Bearing Hand have a lot to offer and I hope that they'll be able to deliver an even bigger punch with the next record.
(5 Tracks, 30:00)
8/10
FruitPochette – The Crest Of Evil (2015 Japanese Bonus Review) – Hopefully the first of my Japanese act of the week bonus reviews, we're not starting with fucking BabyMetal. Even though I like their lyrical content a ton (it's not nearly as happy as you think) this rather grimly covered album is actually quite uplifting, at least as far as it appears musically, at least. The band mix elements of melodic death metal, electronics and J-pop along with core in order to create what comes off as a really different sort of listen in the metal community. It's no secret to most people who know me that I'm a huge fan of Japanese music, but I have a big problem with the use of the kawaii or "cute" vocals, which make the female vocalist sound like she's a loli or an underage girl. I actually prefer the more mature approach to female vocals, as you will hear on this disc, which ultimately sounds like a heavier version of J-pop and is just as catchy as it is full of thick grooves and memorable melodies. They do reach into dub-step a little bit during one of the cuts here, but it's very brief and it doesn't really serve to detriment the record. At The Gates fans will bite their damn hands off when they hear that the band have definitely employed not only their riff style, but that of classic In Flames as well, but to be honest, it's the first time we've actually heard female clean singing over sets of riffs like that and I'm not going pull my hair out over it. The band clearly have their musical chops intact and whatever you think of the vocal approach has really no bearing on the musical structure of the record as a whole. You didn't mind when Blood Stain Child did this shit, so I don't think you should really complain all that much when FruitPochette put a more modern and J-poppy spin on it. There's also some really nice solos on the record, which you wouldn't expect to hear here. The album certainly contains a few electronic fronted pieces as well, but even these are performed well enough to appeal to me. As a matter of fact, FruitPochette remind me so much of Blood Stain Child that it's ridiculous and I'm completely okay with that. I've always liked J-Pop music and hearing it mixed in with heavy metal certainly doesn't sully my palette. What's pretty impressive is that this two girl group are really as skilled as they're displaying with this album, which should surely see them reach fame at a rather young age. It also is a testament to the amount of female fronted metal acts popping up in Japan. Rest assured I'll be covering more of those, as well as some of the heavier approaches (like Undead Corporation) in the future. If a mix of J-pop, melodic death metal and electronics sound like they'd be a good mix for you, then you might like this record. While lacking the Neo-Classical elements that Yousei Teikoku explore, there's certainly enough to meat to chew on this one and you'll enjoy it after marathon watching an anime or playing through a chapter or two of a visual novel. I find this record will appeal to both sexes, so grab your favorite monster girl and jam along to it.
(13 Tracks, 55:00)
7.5/10